Our Tree Care Services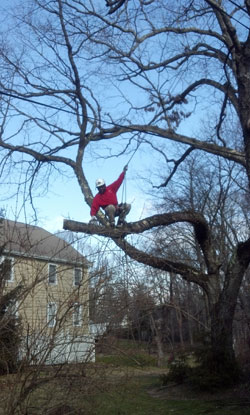 Tree Services Provided
Tree Pruning
Tree Cutting
Stump Grinding
Tree Fertilizing
Disease/Pest control
Tree/Shrub Planting
Emergency Storm Service
Tree Pruning
We specialize in all types of tree pruning. Large height and span with no truck access is NOT a problem for us. Expert climbing techniques are employed for tree ascension (without climbing spurs of course) for difficult pruning jobs.
Below are the most common types of tree pruning. However, please contact us to discuss what pruning is right for each specific tree…
Safety Pruning: Removal of specific dead/cracked/stressed limbs.
Crown Thinning: Removal of selected live growth. Most commonly performed to increase sunlight penetration through canopy.
Crown Raising: Removal of lower branches of the tree to provide clearance.
Crown Reduction/shaping: Crown reduction reduces the height and/or spread of a tree. Consideration should be given to the ability of a species to sustain this type of pruning.
Crown Restoration: Restore form and appearance of trees which have been severely headed or storm damaged.
Shrub/Hedge Trimming: With a variety of trimmers let us trim your hedges while we are trimming the trees. With our 75' bucket truck no hedge is too tall.
Most pruning jobs consist of at least two or more of the above tree pruning techniques. All of our pruning is in accordance with The American National Standard for tree pruning (ANSI A300).
Tree Cutting
Complete tree cuttings usually consist of removal of all wood and brush. Wood may be left at site at customer's discretion. This is usually done if customer would like the sections for firewood use.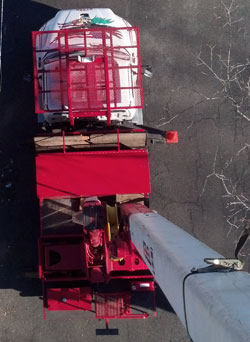 New for 2014 - 75' reach aerial lift truck
Stump Grinding
The majority of tree cuttings are then completed by grinding the stump(s) below grade. This is what a common "tree removal" job consists of. We do offer topsoil/grass seed installation where the tree once stood. This will provide a complete tree cutting job; start to finish, minus the watering. Of course we also grind older stumps from previously cut trees.
Tree Fertilizing and Disease/Pest Control
Diagnostic and treatment of trees for optimum vitality and tree health. Tree fertilizing is completed with liquid injected fertilizer right into the soil (root zone).
Tree/Shrub Planting
Please call to discuss the wide variety of trees Steven may suggest to enhance your landscape.
Emergency Storm Service
All calls and e–mails will be returned
Contact us today to schedule a service, or with any questions you may have!